Trailblazing startups
The region's long-held pioneering spirit has given rise to a successful start-up scene. The $1.9B wellness platform Mindbody sprang from a San Luis Obispo garage. Sonos' category-creating speakers were born in Santa Barbara. Jamba Juice is just one of many companies that began as a Cal Poly senior project. Santa Barbara's Apeel Sciences is one of the hottest startups in foodtech, drawing high-profile investments.
Robust growth ecosystem
The region's growth environment is buoyed by a robust network of startup and small-business support services, as well as two-world class universities and three workforce-focused community colleges.
Small business development centers and coworking spaces join university-affiliated incubators, institutes, pitch competitions and tech parks in advancing innovation.
Fast-growing capital market
That investment activity everyone associates with Silicon Valley? It's happening here, too. The region's companies racked up $900 million in 2021. 2020 saw 59 deals worth another $900 million, a 55% increase since 2015. Venture capital firms have set up shop and formed seed funds focused on the Central Coast.
Culture of collaboration
The region's success stories and advantages are easy to tick off.
What stands out most, though, is harder to quantify: a culture where collaboration and quality of life are embraced as fundamental elements of success.
"There's been exceptional value created on the Central Coast in the last 20 to 25 years. … There are incredible entrepreneurs and technologies and exceptional companies that have come out of the Central Coast."
"Los Angeles is consistently one of the nation's top startup hubs, and now its neighbor to the north is getting in on the action."
"A renaissance of new money continues flowing into the region's companies."
Plus all the advantages of a state that leads the nation in innovation
Tap wide-ranging state incentives, grants and financing assistance, from tax credits and utility discounts to loan guarantees and funds for upskilling your workforce
#1
in access to venture capital funding
Competitive Costs
With competitive business costs and a central location with convenient access by land, air and sea, the Central Coast offers significant value for your business investment
Effective tax rates are lower than competitor states …
… with more of your tax dollars being reinvested in business
SOURCE: Ernst & Young LLP report
(October 2020)
San Luis Obispo and Santa Barbara County's educated yet affordable workforce means payroll savings compared to most metro areas
Average annual wages in the Knowledge + Innovation sector
$83k
San Luis Obispo and Santa Barbara Counties
$164k
$218k
Dive into the data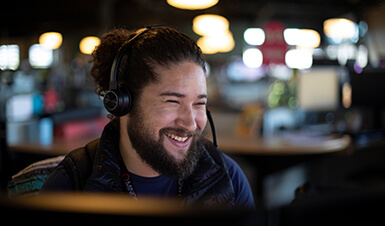 Demographics
View detailed information to see what the Central Coast population and workforce can do for you.
Explore
One region, many communities
The Central Coast encompasses two counties, 15 cities and dozens of unincorporated communities, each with its own distinct character and advantages. Get to know what each has to offer.