REACH IS HIRING
We are looking for a smart, hard-charging Project Coordinator to join our growing team. This position will perform a variety of administrative and project responsibilities across multiple organizational functions.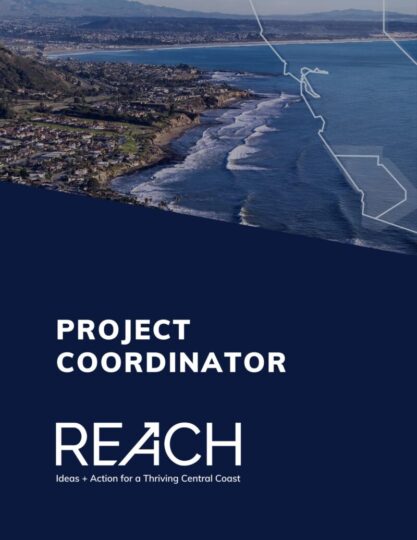 President & CEO
Melissa James
A community leader with a proven track record of building highly effective teams and coalitions, Melissa brings a deep background in economic development, public policy, strategic communications and public relations. A Cal Poly graduate, Melissa worked as a capitol director in the state legislature before returning to the Central Coast, where she's been instrumental in shaping policy and advocacy for several leading organizations. Melissa serves on the workforce development board for SLO County and the Board of Directors for San Luis Coastal Education Foundation. She's been named to the Pacific Coast Business Times' Top 50 Women in Business and Top 40 Under 40 as well as the San Luis Obispo Tribune's Top 20 Under 40.
Vice President
Russ Levanway
Russ has years of leadership in the Central Coast region. He founded TekTegrity in 2005, growing it into a company twice recognized on the Inc. 5000 list. He oversaw the sale of TekTegrity to CIO Solutions in 2018, staying on as President and successfully integrating the companies. Russ has served as board chair at the SLO Chamber of Commerce and the Central Coast Software and Technology Association, as well as nonprofits including Friends of the Prado Day Center and Big Brothers Big Sisters. He is the Chair of the Board for InnovativeIT, a company specializing in large scale WiFi & security projects. Russ has been named in the Pacific Coast Business Times' Who's Who in Business Leadership, Top 40 under 40 and the San Luis Obispo Tribune's Top 20 under 40.
Director of Strategic Initiatives
Julie Sinton Pruniski
Julie brings more than 20 years of public- and private-sector project management and consulting experience, the last 12 advising philanthropic organizations on strategic planning, organizational development and structural assessments, and implementing multi-year learning collaboratives. She helped launch a women's fertility preservation start-up that received national press, led development of web and print publications for Fortune 500 clients and worked in human capital consulting at Arthur Andersen. She holds a BA from Stanford University and an MBA from Vanderbilt University.
Director of Investor Relations
Heather Muran
Heather brings a rich background in marketing, communications and public relations to her role, including membership director for the SLO Chamber and heading national marketing efforts for Lindamood-Bell Learning Centers. For more than a decade, Heather has been a promoter and advocate for the local wine industry as both a historian for the Wine History Project and executive director for SLO Coast Wine Collective, where she led the charge in strategic marketing efforts and rebranding campaigns and laid the framework for the future SLO Coast AVA. She holds a BA from San Diego State.
Communications Director
Sally Buffalo
Sally brings sharp communication skills honed over many years as a newsroom leader and journalist on the East and West Coasts. Since leaving the newsroom behind, she's led the SLO Chamber's highly popular Good Morning SLO program, devised content strategy for enterprise-level clients, ghostwritten for publications including Forbes and written about beer and wine on the Central Coast. She's also an adjunct lecturer in journalism and public relations at Cal Poly and occasional freelance writer. She holds a master's in journalism from Columbia University.
Communications Coordinator
Haley Cahill
Haley brings her strong marketing and communications skills to the REACH team. Having previously worked at Visit SLO CAL, Haley has a rich understanding of the communities that make up the Central Coast.  Her work at an area creative agency has also allowed her to develop the skills needed to assist REACH in their social and digital communication outlets. She is a graduate of Cal Poly, San Luis Obispo.