Uplift Central Coast
A 6-county coalition lifting up the region's residents
A six-county partnership working to attract investment and expand opportunity for Central Coast residents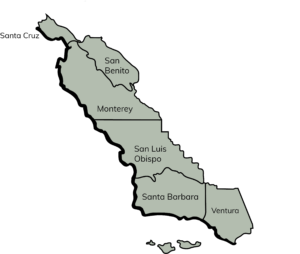 Spanning Santa Cruz, San Benito, Monterey, San Luis Obispo, Santa Barbara and Ventura counties, the Uplift Central Coast partnership came together under the federal Build Back Better Challenge in 2021 with a multi-faceted initiative to cultivate the Central Coast's space + aeronautics ecosystem. 
Led by three economic development organizations — the Economic Development Collaborative, Monterey Bay Economic Partnership and REACH — Uplift is widening and deepening its collaborative efforts under California's Community Economic Resilience Fund, a promising new opportunity to bring resources to the region.
Thank you to those who partnered and collaborated with us as we crafted our application for the Community Economic Resilience Fund.
 We greatly value the time, input and feedback given in the development of our vision and goals for the future of the 6-county Central Coast region. Below you will find links to the application's executive summary and the list of support letters from organizations representing more than dozen different community sectors and perspectives.
3
economic development organizations
Uplift and CERF
A quick look at the regional grant opportunity
What's CERF?
California's Community Economic Resilience Fund — CERF for short — is a $600 million program created to catalyze planning and action to realize an equitable and sustainable economy across the state's diverse regions and develop industries that create high-quality, broadly accessible jobs for all Californians.
Our six-county region was identified as one of 13 regions eligible for a $5 million planning grant, with potential to compete for a larger implementation investment. The planning grants are intended to create an inclusive economic development process with a focus on equity, sustainability, job quality, economic competitiveness and resilience.
Read CA FWD's Guide to Regional Inclusive Economic Development
Who's involved?
Led by REACH, MBEP and EDC, the Uplift partnership assembled a collaborative regional coalition that reflects the diversity of the Central Coast to work together to build a more inclusive economy.
Our table of tables includes: 
Community-based organizations
Represent triple bottom line interests


Advance equity, environmental and social justice

Education + workforce development
Full continuum of preschool through higher education


Workforce Development Boards as key funders and enablers of career pathways and training ecosystems

Employees/labor
Represent broad spectrum of workers and demographics


Advocate for labor rights and inclusive opportunity

Government
Sets policy and provides funding
Delivers services


Protects residents

Investors/funders
Provide capital, investment


Participate in risk/reward transfer for new ideas

Private sector/employers
Hire/retain and grow talent
Operationalize innovation and employment


Provide goods and services
(Note: this represents a framework of the Central Coast ecosystem — dubbed a High Road Transition Collaborative by the state — and is not meant to be exhaustive of the entire current or future ecosystem.)
REACH is serving as the regional convener, facilitating meetings and organizing an inclusive group of stakeholders. EDC is serving as the fiscal agent, responsible for grant management. 
Timeline
July 25, 2022 | Deadline for Uplift to submit planning grant application
Leading up to the due date, Uplift worked to mobilize a diverse Central Coast ecosystem of stakeholders, developed a vision and goals, and crafted an inclusive outreach and engagement plan and process. On October 20th, 2022, the Uplift Coalition was awarded the grant.
2023-2024 | Phase 1: Planning 
Uplift is now entering a 18-24 month planning phase. This involves: building out theCentral Coast ecosystem to include additional voices and perspectives; implementing an inclusive outreach and engagement plan; and developing a regional plan with collaborative partnerships.
Beyond | Phase 2: Programs and Projects 
Going forward, Uplift will work to advance and implement projects and programs resulting from the inclusive regional planning efforts. The state has set aside $500 million, though the planning phase is also intended as a catalyst to compete for a range of other federal, philanthropic and state funding.
Alphabet soup: CERF v CEDS
Many regions have what's called a CEDS: a Comprehensive Economic Development Strategy. REACH is in the process of developing a CEDS for San Luis Obispo and Santa Barbara Counties, with REACH 2030 designated as the region's temporary CEDS.
In short: Similar names, different programs. Here's a chart to help keep them straight.
| | CERF | CEDS |
| --- | --- | --- |
| Program origin | State government | Federal government |
| Grant administrator | GO-Biz, Office of Planning and Research, Labor Department | Economic Development Administration |
| Project applicant | Uplift Coalition | REACH |
| Community matching funds? | No | SLO County, Santa Barbara County, Bank of America |
| Geography? | 6-county region defined by the state (Monterey, Santa Cruz, San Benito, SLO, Santa Barbara, Ventura) | 2-county region defined by REACH (SLO, Santa Barbara) |
| Timeline | Application due July 25; Program runs Oct 2022 – Sept 2024 | Current – Fall 2023 |
| Goals | To be competitive for $500M in CERF implementation funds and beyond | To be competitive for federal investment |
PAST WEBINARS
March 17th - Uplift Central Coast Community Kickoff
The kickoff grants an overview of the Uplift project + team, and features speakers Chris Brenner with Santa Cruz Institute for Social Transformation and Derek Kirk with CA Labor & Workforce Development Agency.
Watch Webinar
July 19th - Uplift Central Coast Final Working Session
At this final regional working session, we reviewed and discussed the building blocks of our application based on community iteration and feedback.
Watch Webinar
MEET THE TEAM
Project Director
Quinn Brady
Quinn has extensive community organizing experience, including as co-chair of a successful $349 million school bond effort, founding board member of SLO County UndocuSupport, and work with the SLO Climate Coalition, RACE Matters and other community groups. Quinn has a passion for uplifting disinvested communities and fostering belonging.
Project Manager
Lady Freire
Lady has a background in supporting women who want to develop and grow through starting small businesses or joining the workforce, starting in her native Chile and most recently for Visión y Compromiso, and is passionate about working with the community to contribute to the construction of a more just and equitable society.
Space + aeronautics
Uplift first partnered on a multi-faceted project to cultivate the Central Coast's space + aeronautics ecosystem.