Open for Business
The waterfront city of Morro Bay lies just 15 minutes from a major interstate highway, two college campuses and an airport. The city is passionate about creating jobs and housing, retaining and expanding its retail and hospitality base, and facilitating successful outcomes for economic development.
City leadership is committed to streamlining construction permitting and investing in new public works infrastructure, while existing businesses are ready to welcome new customers and peers into the local landscape.
Staging ground for adventure
With world-class natural assets including a state park and pristine national estuary, Morro Bay is a popular destination by land or sea. It's also the last full-service community on the route to Big Sur and the only safe harbor between Santa Barbara and Monterey.
Learn more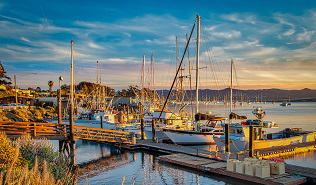 Building on a maritime heritage
The city's fishing heritage lives on through its active commercial port and proud maritime culture, while business and community leaders forge growth in four economic centers: tourism and recreation, housing, renewable energy and maritime-based industries.
Learn more
Live + work here
Multiple infill possibilities plus a precious handful of catalyst sites are suitable for investments. Waves to surf, trails to hike and miles of unspoiled beaches to explore, plus reasonably priced commercial real estate, offer small to midsize firms a compelling value proposition for relocation.
Find sites