The Central Coast is the heart of California, with convenient air, land and sea access to major destinations across the state.
Midway between Los Angeles and San Francisco along California's coastal 101 highway, San Luis Obispo and Santa Barbara Counties offer strategic connectivity, with high-speed fiber, uncongested highways, several harbors and three commercial airports.
Hassle-free travel
Hassle-free travel is the norm here. Dozens of direct flights connect you to hundreds of destinations.  Easy parking and uncrowded terminals allow you to arrive at your gate in minutes, relieving you of day-of travel stress.
General aviation airports with fixed-based operators are also located in Paso Robles and Oceano, making helicopter and private/charter jet travel to and from all parts of the Central Coast quick and easy. For the occasional long-haul flight, international airports in Los Angeles (LAX), San Francisco (SFO) and San Jose (SJC) are about a three-hour drive.
San Luis Obispo
Service on American, United and Alaska Airlines with direct flights to Dallas, Denver, Los Angeles, Phoenix, Portland, San Diego, San Francisco and Seattle

$13.5M runway improvement completed in November 2021 

$40M new passenger terminal completed in 2017
Fly SBP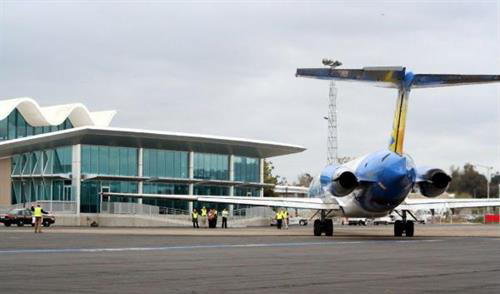 Santa Maria
Direct route to Las Vegas on Allegiant Air

1,700 feet runway extension completed in 2012

Free parking
Fly SMX
Ride the Rails
Amtrak's Coast Starlight and Pacific Surfliner offer daily train service. The LA-to-Seattle Coast Starlight and SLO-to-San Diego Pacific Surfliner offer several stops throughout the Central Coast region making any destination accessible. Greyhound and Amtrak Thruway Bus offer additional connections.
Digitally Connected
San Luis Obispo and Santa Barbara County boast excellent long-haul connectivity, sitting atop the high-speed fiber running from Silicon Valley to Los Angeles and as the landing point for international submarine fiber-optic cables. Grover Beach serves as home to the Pacific Crossing cable landing station, giving businesses direct access to North and South American, Asian and other international markets. 
Most cities feature high-speed fiber through business/industrial areas. Find available properties with broadband.