Supporting business expansion, attraction and retention on California's Central Coast
As the regional economic development organization for San Luis Obispo and Santa Barbara Counties, we connect the dots that help business grow, economies expand and people thrive.
If you are looking to move or grow your business on the Central Coast, develop new collaborations or partnerships, or learn about emerging commercial opportunities, we can help. REACH collaborates with a network of economic development practitioners across the Central Coast that are ready to work with you to understand the landscape and help achieve your business goals.
Site Selection
Robust data and deep regional expertise help us connect you with the right location and local decision-makers to smooth your move.
Start with our powerful site finder, which allows you to browse available land and buildings, view zoning, broadband and other map layers, explore demographic and business intelligence data and share it all with the click of a button.
Looking for on-the-ground guidance? We've got you covered with our network of partners at the region's cities, counties and chambers of commerce.
Business Data + Insights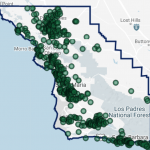 Understanding the landscape is critical to business success. Our data center provides key insights on local industries and suppliers, zoning and infrastructure, demographics and vital information. Our team is ready to help you leverage these insights and provide first-hand perspectives on key assets, trends and emerging opportunities.
Incentives + Resources
Local, state and federal partners offer a wide range of tax credits, grants, and business services and resources. Our team can help you identify available options and navigate the application process.
Approvals + Permitting
Our team has strong relationships across local jurisdictions and state and federal agencies and regularly advocates for policies and programs that promote economic development and business growth. We are available to consult about your needs and connect you with the appropriate decision-makers to gain traction in the regulatory process.
Stakeholder Engagement and Partnerships
Understanding the stakeholder landscape and fostering strong relationships with public, private and non-profit partners is crucial to building a foundation for success.  We work closely with the range of stakeholders and organizations across the Central Coast and are ready to help facilitate close community dialogue and collaboration.
Promotion + Publicity
A core part of our work is promoting the region's business and economic wins. Our team can help amplify your story and advise on the best channels and messaging to share your success.
Workforce Training
The region's universities, community colleges, workforce development boards and apprenticeship programs offer a myriad of custom workforce training options. We'll connect you with the right fit for your needs.
Who we are
REACH is coalition of public, private and civic leaders working to bolster a resilient Central Coast economy with opportunity for all residents to thrive. Explore the core initiatives driving our mission to increase economic prosperity, reduce barriers to job creation and help businesses grow.