Today we're taking a closer glimpse at the outlook of the Central Coast economy and how it is faring through the chaos of a prolonged global pandemic, abrupt recession and profound changes to the ways we live, work and play.
These insights from regional economists, key statistics and emerging variables will help light the path toward a more resilient regional economy — one we expect to include a heavy dose of reinvention and a heightened role for public-private partnership and collaboration.
---
The jobs picture
Because of this recession's uniquely unequal impact on low- vs. high-wage earners, it may already seem like a blip in the rearview mirror to some across the Central Coast, but the impact on jobs has been substantial.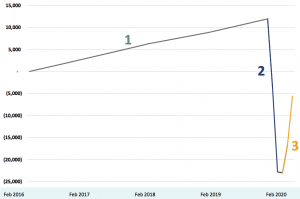 This graph, with credit to BW Research, illustrates the picture in both San Luis Obispo and Santa Barbra Counties:
Steady job growth over the last 4 years, about 12,000 jobs added in each county
An abrupt loss of 23,000 jobs in each county between February and May
A return of some of those jobs (11,100 in Santa Barbara County by July and 7,600 in SLO) with a ways to get back to previous levels.
Like elsewhere, lost jobs are concentrated in lower-wage industries, with tourism, hospitality and retail among the hardest hit in the region.
And while the unemployment rate is improving — now about 8% in each county, down from a high of 14% in April — it's still far above the levels seen over the last few years, in the 2-3% range for SLO County and 3-4% in Santa Barbara.
---
Covid considerations
Predictions about where things go from here vary wildly. At REACH, we're tracking a half-dozen core considerations over the short and long term to inform our approach to sustainable economic growth and recovery. In the coming weeks and months (even years), these lenses will bring sharper focus to those efforts.
Short Term
Safety & Distancing. How are jobs changing due to the COVID-19 pandemic and reduction of physical contact? (increased telework, etc.)
Demand Restructuring. How is consumer behavior changing and impacting supply chains and local jobs?
Job Growth: What industries are likely to grow and which are not?
Long Term
Technology & Automation. How are jobs changing due to technology advancement, including artificial intelligence, machine learning and big data?
Changing Energy Landscape. How are jobs changing due to California's shift to a heavier renewable energy portfolio?
Investments in Innovation. How will the changes and investment in healthcare, technology and science impact employment in our region?
---
Central Coast Economic Forecast remains bullish
The recession will be largely erased by the middle of next year, predicts Beacon Economics Founding Principal Chris Thornberg, describing the downturn as "rough, scary and odd but quick."
"V is the only logical outcome," Thornberg said, even while acknowledging the current K-shape of the recovery, where higher-income segments of the population are faring far better than lower-ones.
Highlights from his Sept. 18 update:
New business applications are surging, evidence of confidence and activity even as some small businesses will be lost to the downturn.
Drive-to tourism is bouncing back fast, with SLO County faring better than many surrounding areas.
Home sales and prices are accelerating. (The median price for a single family home in SLO County has hit an all-time high of $666,840 among brisk sales, the SLO Tribune reports.)
Incomes are actually up and savings rates are phenomenal: "There's money out there that will be spent."
Areas to watch:
Housing stock and production. Thornberg reiterated that a lack of sufficient housing has long been one of the biggest drags on SLO County's economy and expressed concern about a long-run pull-back on building.
The region is still behind on jobs, with the biggest losses in leisure/hospitality, government (including schools) and retail trade.
The huge federal deficit and inflation. While the Federal Reserve has indicated it would hold short-term interest rates near zero until 2023 to allow for recovery, Thornberg contends that if rates start to rise, we may be headed toward an inflationary economy like in the late 1970s.
Watch the presentation here and mark your calendar for the full national, state and regional forecast on Nov. 18.
---
"Everything was going so well until…"
That's the opening of the UCSB Economic Forecast Project report released Sept. 9.
The EFP's annual report focuses on in-depth analysis of the last couple years of economic data — showing continued progress on the longest expansion in history — so the report looks more back than ahead. But it opens with an overview of the economic shock of the Covid pandemic: the huge spikes in unemployment claims, the precipitous drops in retail spending.
"The early effects on the labor market were catastrophic," Peter Rupert, a UCSB economics professor and the director of the Economic Forecast Project, writes. "The depth and suddenness are easily shown yet hard to comprehend."
While some recovery has taken place, Rupert notes, impacts have been devastating for some, and "it is not clear at this point how much more (policy intervention) will be needed to keep those in need afloat."
The report looks to a more mild and extended period of recovery: "Overall, in the next three years, we are expected to see average annual gains of 2,889 jobs per year and an average annual growth rate of 1.36%" — far behind 2019's 3,547 jobs and 2018's 3.7 percent growth rate (2019 figures not yet available).
Furthermore, Rupert writes,, "It is likely that at least some of the economic burden of this crisis will be passed on to future generations and an indirect effect of COVID-19 is likely to persist for many years."
---
The bigger picture
The Central Coast, of course, does not exist in a bubble. Here's a quick look at some outside trends and outlooks at play.
State recovery has long road ahead
The widely watched UCLA Anderson Forecast projects that a full recovery from the prolonged global pandemic in California will take more than two years — and that assumes diminishing Covid impacts, the arrival of a vaccine by early next year and at least a trillion in stimulus funds by the end of the year, something that's very up in the air for now. "None of these assumptions are assured, and if they do not come to pass, our forecast, presented here, is too optimistic," the UCLA economists write.
Falling labor force participation and shifting patterns in the hardest hit industries are among the key issues shaping the state's recovery, reports the non-partisan Public Policy Institute of California.
Public sentiment remains grim
A statewide poll by the PPIC finds voters in a gloomy mood about the economy heading into the election, with majorities believing "the nation will be in bad financial times for the next year."
Inequality is increasing
This recession is the most unequal in modern history, the Washington Post illustrates through interactive graphics and data. Job losses overwhelmingly affect low-wage minority workers. Mothers of school-age children are also struggling to re-enter the workforce, leading many to term this a "she-cession."
---
Where do we go from here?
In short, we carry on the mission REACH was created for: to increase economic prosperity on the Central Coast through big thinking, bold action and regional collaboration.
In the early days of the pandemic, REACH marshaled our resources and connections to anticipate and support immediate needs, partnering with government and leading development on the START and RISE reopening guides.
We've since shifted focus toward longer-term recovery and building resilience for the future. This includes uniting the region's economic development professionals to expand the reach and impact of their efforts (something we'll share more on soon), addressing retraining and reskilling required in the wake of new workforce realities, and pursuing federal grants for job creation projects.
Most critically, we are driving forward with our REACH 2030 plan to create 15,000 new good-paying jobs across the Central Coast by 2030. This strategic plan of six-interrelated initiatives has the potential to change the trajectory of our economic future.
This is a time when our regional resiliency will be put to the test; we must work together, pool resources, leverage strengths, build from within and put our collective expertise to use to support our region and the people in it.
We'll hope you'll join our efforts to bring about our vision of a Central Coast where current and future generations have the opportunity to thrive.