A new industry is setting sail from the Central Coast.
Offshore wind energy is making its West Coast debut off the coast of Morro Bay and marking the U.S. launch of floating turbine technology.
Latest news
"Offshore wind is here to stay. Here in California, we are going to bring it to scale, starting at the Morro Bay and Humboldt Wind Energy Areas."
"Humboldt and Morro Bay … could be among the first commercial-scale floating wind power plants in the world, leading the deployment of new technology that has potential to deliver clean energy to coastal regions worldwide."
"California's energy future is blowing in the wind off of Morro Bay."
"Offshore wind holds incredible promise as a means to tackle climate change while also creating economic opportunity, and the Central Coast is uniquely poised to reap the benefits."

"Investment in the offshore wind industry in the U.S. is expected to reach $17 billion by 2025, $108 billion by 2030 and $166 billion by 2035."
"We have a long history as an energy-producing county, and this offers the possibility of reinventing that legacy as a central underpinning of our economy."
"We're excited that CA will have the opportunity to demonstrate to other states the benefits of the floating offshore wind designs for deep water."
"Offshore wind is a win-win-win for the state and the Central Coast: more jobs, more clean power, and more tax revenue for local government."
"Our climate and our economy will benefit immensely from purposeful actions on thoughtful offshore wind development."
REACH and several partners are working to position the region as the nation's launching pad for commercial-scale floating offshore wind.
This spans planning for infrastructure, workforce and other industry needs and ensuring the Central Coast reaches its economic goals while helping the state and nation meet clean energy goals.
Infrastructure planning
The Central Coast has an array of opportunities to enhance its waterfront infrastructure to support the growth of the offshore wind industry, as outlined in a REACH report conducted in partnership with San Luis Obispo County, Santa Barbara County and the City of Morro Bay.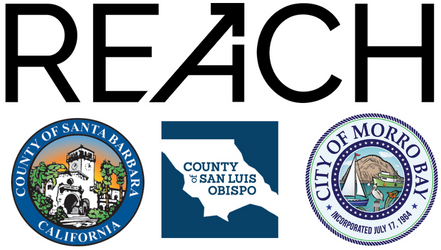 Offshore wind's economic impact
A study commissioned by REACH found that the 376-square-mile wind energy area off the coast of Morro Bay could generate significant near- and long-term economic benefits on the Central Coast, as shown in this chart.
With the corresponding onshore infrastructure, a 3 gigawatt wind farm could generate 650 long-term jobs and an annual economic impact of $262 million, in addition to shorter-term benefits.
$2B
construction economic impact