Uplift Central Coast
A 6-county coalition advancing space + aeronautics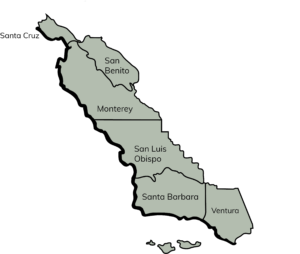 Cultivating a space + aeronautics ecosystem from Santa Cruz to Ventura
A growing coalition of government, education, and industry partners led by REACH, MBEP and EDC has united to accelerate the Central Coast's aerospace technology corridor and create thousands of good-paying jobs by:
Advancing industry-identified requirements for workforce development from K-16, offering equitable pathways into the growing sector
Creating two innovation districts, one for polar space launch at Vandenberg Space Force Base and one for drone and air taxi development in Monterey Bay
Building infrastructure and construction projects that will unlock business and job growth
Establishing a network of three aerospace incubators to support new business formation, university partnerships and entrepreneurship
National Science Foundation Type 1 Regional Innovation Engines Program
The Uplift Coalition submitted a concept outline which has since been accepted. We have been invited to submit a formal planning proposal to lay the groundwork for a six-county Central Coast Space and Aeronautics Innovation Corridor, building upon the work that we did for the Build Back Better challenge.
"Each of us in our respective markets has innovative companies shaping the future of air and space, world-class universities and other valuable assets. By connecting the dots, building a robust talent pipeline and removing barriers, we can drive transformational growth across a vast expanse of our state."
"This expansive coalition exemplifies the type of regional collaboration the state is aiming for in our economic recovery efforts. It aligns with our vision for both sustaining and growing California's position at the forefront of the aerospace and commercial space industries, pushing the boundaries of innovation and creating the jobs of the future."
"The global space and aeronautics industry — including next-generation drone development, rocket launch and logistics, electric air taxi innovation and other new and emerging technologies — is skyrocketing. Through rigorous collaboration and strategic investment, we firmly believe this game-changing coalition can unlock billions in economic impact and many thousands of quality jobs for the region."
"This vision is not just of economic growth, but of increased economic opportunity for more than 2 million people across an area larger than 10 states. The space and aeronautics industry offers great opportunity for inclusive growth, with entry-, middle- and high-level jobs in skilled labor, engineering and management. By prioritizing home-grown talent through new education and training pathways, our vision uplifts our residents as it uplifts the region and its contributions to the nation's economy and innovation leadership."
"The enthusiasm that has gathered around this effort in short order is truly impressive. With such widespread passion and commitment behind the vision, the sky really is the limit."
Uplift Central Coast at a glance
The region has the assets to succeed:
a burgeoning cluster of industry players and start-ups
highly ranked state universities with premier engineering and aerospace programs
strong network of community colleges and workforce development programs
critical yet underutilized national infrastructure at Vandenberg SFB
Uplift Central Coast connects those assets strategically for the first time to create a critical mass of companies fueled by university-incubated innovation and a robust pipeline of human capital.
The coalition expects to pursue a combination of federal, state, industry and public-private partnership resources.
REACH, as the lead agency, recently submitted a $70 million grant application under the Biden Administration's $1 billion Build Back Better Regional Challenge that would create nearly 10,000 jobs, catalyze growth for 150+ companies, spur more than $500 million in investment, train and upskill 2,000 workers per year and reach more than 30,000 K-12 students per year.
13
coalition members (and growing)
15+
universities + community colleges
56
military bases, airfields + airports
100+
space + aeronautics businesses