The latest comings and goings in regional economic development
Bon voyage to SLO airport director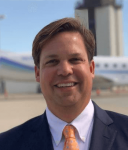 A bittersweet farewell to Kevin Bumen, who oversaw significant growth at the SLO airport, transforming it into a major regional asset. After seven years, the Cal Poly grad is moving on to become the first chief commercial officer for San Francisco International Airport. Under his leadership, the new $40 million terminal was completed, new routes and airlines began service, passengers doubled and a study detailing the airport's $85 million annual contribution to the regional economy was completed.
---
Arroyo Grande welcomes familiar face as city manager
Arroyo Grande has tapped Whitney McDonald to take over as city manager. McDonald has been serving as deputy acting city manager since May when former City Manager Jim Bergman resigned unexpectedly. She started with the city as community development director in February, after serving in legal counsel roles for the Nipomo CSD, the city of SLO and SLO County.
---
Comings and goings at the Atascadero Chamber
Josh Cross will serve as interim president and CEO of the Atascadero Chamber of Commerce following Emily Reneau's departure to the Paso Robles Wine Country Alliance, where she previously worked. A-Town native and Cal Poly grad Cross comes to Atascadero from the Paso Robles Chamber, where he was director of economic development.
---
Paso Robles brings on economic development manager
After leading economic development under the Paso Robles Chamber of Commerce, Paul Sloan will now fulfill those duties directly for the City of Paso Robles. The city had previously contracted with the chamber for economic development activities. A Paso native, Sloan's previous work experience includes managing sales and marketing for Visit SLO CAL.