The road to recovery is a journey that will take all of us coming together around new ideas and approaches in pursuit of an inclusive, resilient Central Coast future.
This coordinated portfolio of research on COVID-19's impacts on the San Luis Obispo and Santa Barbara County economies and the insights surfaced in our event highlighted emerging pathways to recovery and provide the foundation for data-driven decisions and targeted initiatives that can fuel a widespread rebound across the Central Coast's communities, businesses and workforce.
View the event video to hear from:
The New Localism Co-founder/Author Bruce Katz
BW Research President/Principal Researcher Josh Williams
SLO County Board of Supervisors Chair Lynn Compton
Santa Barbara County Board of Supervisors Chair Bob Nelson
---
The Central Coast COVID-19 report prepared for REACH examines impacts and outlooks across the two counties, with key recommendations for reshaping and reinforcing the region's economy.
---
The Santa Barbara County report, prepared for the Santa Barbara County Workforce Development Board, dives further into county-specific impacts, including a section on career pathways.
---
The Workforce Development Boards in SLO and Santa Barbara Counties have aligned under a new South Central Coast Region designated by the state and recently completed their draft 4-year strategic workforce plan.
---
BW Research President Josh William's presentation on the region's post-COVID economy.
---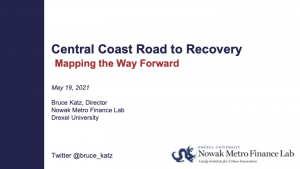 Bruce Katz's presentation on leveraging American Rescue Plan Act funding for collective impact.
---
Federal Investment Guide for American Rescue Plan funds published through Katz's Nowak Metro Finance Lab in conjunction with the U.S. Conference of Mayors, Accelerator for America and Center for Inclusive Growth.