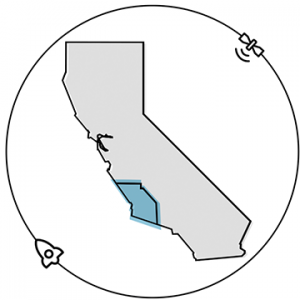 Cutting-edge space enterprises with thousands of high-paying, future-oriented jobs sprinkled throughout the Central Coast, from Ventura County to the south and Monterey to the north — a giant leap for commercial space, rivaling the 100-mile radius around Florida's Cape Canaveral. 
This is the future the REACH board envisioned when it made the initial investment in a master plan to forge a flourishing space industry centered around Vandenberg Air Force Base. 
With this private-sector leadership, we're now pushing ahead with partners in the military, industry, government and education. Last week, we announced an agreement that brings the 30th Space Wing, the State of California, Cal Poly and Deloitte to the table in pursuit of a shared vision for the future of space innovation and exploration —  something that's never happened before. Santa Barbara County has since joined the partnership.
The announcement garnered significant media coverage, not only across the Central Coast but also state and national outlets including Politico, Sac Bee, LA's ABC affiliate, Miami Herald and Space News.
"The potential for the commercial space industry to provide significant jobs and economic impact to not only the Central Coast but the entire state of California makes it worth pursuing aggressively," REACH CEO Melissa James said. "Through diverse partnerships and collaboration, we will ensure the Central Coast of California is the launchpad for the next frontier of commercial space."
The vision
We and our partners envision a robust cluster of space-related activities taking root in the region, with sustained presence of companies across the ecosystem, from manufacturing and launch to maintenance and support, and enabling human spaceflight for the first time in California.
To get there, we will develop a master plan that identifies the required infrastructure, human capital development, governance and financing necessary to support the U.S. Space Force mission and position California as a global leader in the future of the commercial space industry.
Why here, why now
The region boasts several attributes that make it an ideal location for commercial space operations.
Vandenberg already maintains active launch capabilities, capacity to support a larger industry, and favorable geography, and Cal Poly produces world-class engineering and science talent.
The U.S. government, in its first National Space Strategy, identifies the space industry as a top priority and highlights dynamic partnerships between government and commercial partners as essential to our economic prosperity, national security and scientific knowledge.
And the commercial space industry itself is expanding, with growing commercial launch demand and significant private investment.
In the news
The announcement gained significant media attention around the Central Coast and the country. Check out some of the coverage.
National
Regional
Quoted
"California has been at the forefront of the aerospace industry for more than a century. This [agreement] cements that leadership and serves as a critical investment in California's innovative economy as we work to safely recover from the COVID-19 induced recession. This cross-sector partnership will bring quality jobs to the central part of our state with Vandenberg Air Force Base serving as a thriving spaceport and the nation once again watching California."
— Chris Dombrowski, acting director of GO-Biz, the Governor's Office of Business and Economic Development
"This is a once-in-a-generation opportunity for the State of California to drive the space industry into the next century. The foresight of leaders in California and in our national security agencies has put the Central Coast and Vandenberg Air Force Base in position to become a world-class spaceport and center of excellence in a quickly evolving market."
— Josh Nisbet, managing director at Deloitte 
"Space is critical to national security, and the National Defense Strategy provides a very clear direction to restore our competitive edge in the re-emerging power competition to maintain space superiority. We rely on robust collaboration with our industry partners not only to provide assured access to space but also to maximize our range capacity and move forward into the range of the future."
—Col. Anthony Mastalir, 30th Space Wing Commander at Vandenberg Air Force Base
"With its strong tradition of Learn by Doing, Cal Poly is pleased to work with other institutions in the region to play an instrumental role not only in developing the workforce of the future but also in spurring innovation and teaming with industry to foster growth and reach new milestones. We're excited to play a key role in supporting the possibilities this landmark agreement holds."
— Cal Poly President Jeffrey D. Armstrong